uganda, day 6
awoke at first light, took my journal close to the kid's rooms. heard them singing about what is to be found in the blood of the Lord: wisdom, knowledge, healing, power, forgiveness, protection, praise, care, cleanses.
went over to one of the houses and sat in the back where the 'stove' is. talked with the house mom and some of the kids. they were teaching me more words.
a rooster cock-a-doodle-do'ed right behind me making me jump a little. i turned around and said to it, "i como ber." they laughed at me. i will probably be forever remembered as the white girl who says good morning to roosters.
later i was singing with the kids. i was trying to learn their songs, but they kept interrupting with the jungle song. fine. we'll sing the jungle song. over and over and over again.
then they went into school and we ventured to the nile and got 3 canoes to take all of us across and back.
at one point in the back of the truck, i saw a field full of papyrus plants.
little kids running, smiling, waving just for us. one little boy ran and waved with both hands. too bad he needed one of those hands to keep his pants up. oops.
lots of time in the classroom. taught about being born again. made butterflies.
nancy is so gentle – they all are! but she is quieter than most. her look finds me at every turn and i am a moth to her flame.
they all ask us to write notes or our names or song lyrics in their notebooks. i must be ready to write a lot tomorrow. listening to david crowder band in preparation.
bought some tie dye and asunta tied one of them on my head.
also, tonight we danced. robert owns me as he now has footage of me picking out an african husband.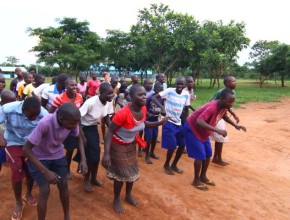 i also danced with judith, my african sister. she knows amazing grace. i think i'd like to send her a hymnal.
singing prayers and then hugging and kissing and saying goodnight over and over is fabulous. i am theirs!
Related
Calendar
September 2021
M
T
W
T
F
S
S
1
2
3
4
5
6
7
8
9
10
11
12
13
14
15
16
17
18
19
20
21
22
23
24
25
26
27
28
29
30
Categories