uganda, day 1
i knew i was going to love uganda before ever leaving the airport…
in entebbe. shared a room with careenna at the sophie motel. we both woke up very early but thought the other was asleep so remained respectfully quiet. i spent this time praying and thinking. around 5:30 we started talking, sharing, giggling.
i could hear others stirring in rooms near us, and then begin talking.
we heard a bird and i said "our first african songbird!" later i asked renee if she heard it and she said, you mean the rooster? when i said no she asked if i had heard her snoring. "no, renee, you are not the african songbird." LOL!
i confessed my meat-mares to careenna who cracked up over them. i learned that she sings in the shower. beautifully, i might add.
connor, careenna, amy, robert and i went out to look over the rooftop. we saw a baboon and named him phillip.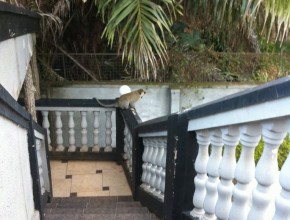 at breakfast i met a couple from london. the girl had spent 3 months away, 1 of which was spent volunteering at an orphanage. the guy had just come with her. he visited the orphanage with her one day and talked about how eye-opening it was. looking forward to the village where i hope my eyes are opened wide.
we met asunta. she was to become our 'guide' for the next few days. we got to talk on the ride to gulu and i learned that her given name was african for "God is not good." her parents had wanted a boy. girls cost their fathers money and she is the youngest of five of them. so her parents were disappointed to find that she was another girl. her christian name, asunta, comes from the word ascension. much better.
the van ride was long, taxing and marvelous! we passed villages and huts and many people. it seemed we were never alone along those roads, no matter how remote they felt.
i loved waving at the children and seeing their bright smiles.
i was pretty beat. most people slept leaned over onto the back of the seat in front of them, but i was in the jump seat so i dozed a little sitting up.
we stopped and had chicken and chips. well, i only had chips. 🙂 at the market, mindee tried to buy razors and annoyed the cashier – apparently she was supposed to know how much they were. and connor tried to walk in with a bottle of water only to be asked to 'check it in' around the corner where he received a claim ticket to retrieve it when we were done shopping.
asunta offered to open our bottles of soda, which she did. with her teeth!
on the van ride we played "never have i ever." asunta won with "never have i ever used a camera," to which connor immediately responded by placing his own in her hands and instructing her to click it.
and i was introduced to what would be beverage of choice while i was there. a stoney. it's like a root beer, but made of ginger. mmmm!!
finally made it to gulu, our home for the next two nights.
at dinner we met rose. finally. rose! her sweet spirit radiated from her. dinner was delish: beans, rice, potatoes, posho, baby eggplant. yum!
later we went to an ice cream shop called cafe larem and met gus and heather from l.a. they also do some work for village of hope. what a blessing to meet others with a heart for the children. i enjoyed getting to know a little about them.
Related
Calendar
September 2021
M
T
W
T
F
S
S
1
2
3
4
5
6
7
8
9
10
11
12
13
14
15
16
17
18
19
20
21
22
23
24
25
26
27
28
29
30
Categories