the knitting debrief
robyn, aka the
minimalist knitter
, asked me how the knitting project went in uganda. my response came from the first time i've sat down to write anything out. so i'm including it here as an update:
robyn,
wow!
where do i begin? it was really awesome! here are a few photos
when the house moms saw me teaching the kids, they wanted to learn too. and when the kitchen workers saw me teaching the house moms, they wanted to learn too. even the ugandan director picked up some sticks and gave it a try. and so did the full time missionary woman who is living out there with her husband. everyone wanted in on it.
they were very good at learning the process and i laid out some foundational knitting for them. by the time we left, one of the house moms nearly had a scarf made!
each session would last several hours because the girls wouldn't stop knitting until the house moms told them to – either it was time for dinner or time for chores. and the time would go by so quickly (and quietly… it absorbed them).
on a seemingly unrelated note, we took some time to sit with the head mistress (principal) of their school to discuss how we can support them in the future with lessons, etc. we wanted what we teach them to supplement what the teachers were teaching, and that hopefully we could bring more ESL into it and maybe bring things from america that weren't readily available in uganda (like weather implements such as wind socks). when she presented us with the upcoming curriculum, it turned out that some of the art elements for the next two terms are knitting and crocheting. hmm… i can help with that.
then we were looking at some of the items that the village has been able to sell to help support themselves, like the bead project, and they were asking if i could teach the kids how to make things that would be marketable to sell. hmm… i can help with that, too!
so it seems that this knitting project (that has by far outgrown me) can be helpful in ways i hadn't considered.
i received several boxes from people saying they heard about me through your blog and it blessed me beyond measure that they would simply give! they don't know me. and they may not even know you. but they just… gave. their generosity and willingness to partner with me was touching and i found myself several times just tearing up for lack of a better response.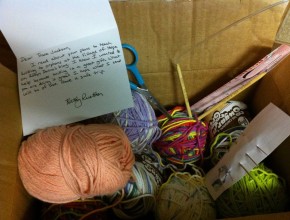 we took over 75 sets of needles and over 100 pounds of yarn to africa and i still have some stuff left over in my spare room (i saved the boucle and fuzzy yarns for later as it didn't lend itself well to beginner's efforts).
upon my return i found another box had been delivered in my absence and another box landed on my doorstep the next day. the generosity continues.
my next step, as i continue to collect donated materials, is to gather some patterns for products that will sell (mostly to americans that visit the village or to be sold here in the states), and hopefully items that can incorporate some of the beads. one idea i had is to have the kids make a basic pouch purse with a drawstring at the top and use beads at the ends of the drawstrings. maybe finish it with fringe at the bottom with beads, too.
if you or any of your readers have pattern ideas or submissions they would be greatly appreciated. 🙂
one last note: my husband and i sponsor four of the kids there. two girls and two boys. the two girls are both named vicky and one of them had been very closed off when we were there last. that may have even contributed to me being so drawn to her. i tend to be a little standoffish (shy) myself. since our last visit i've sent her some letters and prayed for her regularly.
a few days into our visit this time, she gave me a note that said she wanted to share her story with me. she led me around to the side of her home, sat me down, and began to tell me. it was… heartbreaking. no child in that village has a pretty story. it was all i could do not to cry (for fear of it being translated to her that i pity her).
the fact that she shared with me speaks of incredible trust. when we returned, it spoke volumes to those kids. it said we will be back for them. they can trust that. they can trust US. and they did… she wasn't the only one who opened up to me.
but it also told me that they are receiving such good care, such good, godly, healthy care, that they are healing from past hurts and beginning to open up. it was a beautiful testimony of how God can restore even the most broken of us. his love can 'knit' back together a heart with more fractures than we can count. yes, he knits! i am my Father's daughter. 🙂
thanks for all you have and are doing to push this project forward and increase awareness of the village of hope. i'm astounded by your kindness.
with gratitude,
trace
Related
4 comments
Calendar
September 2021
M
T
W
T
F
S
S
1
2
3
4
5
6
7
8
9
10
11
12
13
14
15
16
17
18
19
20
21
22
23
24
25
26
27
28
29
30
Categories