are those my words in your mouth?

have you ever heard your own words coming out of someone else's mouth?
i was talking to some of my girlfriends the other day about doing the p90x3 workouts. the "3" stands for 30 minutes and some of the workouts are really challenging. but i told them when i get to a difficult part, i just tell myself, "i can do anything for 30 minutes."
then later, one of them posts on FB how she tried the workout, too, and when i asked her what she thought … she quoted me back to me: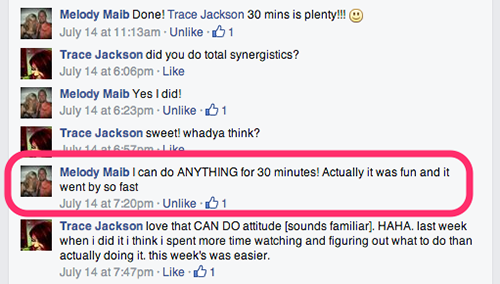 and i thought … wow, she really heard me. and not just heard me, but my words went in and got all processed in her brain and stuff, and impacted her enough that they came back out as her own.
it reminds me how powerful our words can really be
james 3 talks about the power of the tongue (speech), and warns us of the danger we can stir up with it.
Likewise, the tongue is a small part of the body, but it makes great boasts. Consider what a great forest is set on fire by a small spark.
God even used words to create our very world, as he spoke it into existence.
and he tells us in proverbs that if we want wisdom, to ask aloud for it.
yes there is power in the spoken word!
we can use it for evil, or we can use it for good. but however we choose to (or thoughtlessly) use it, its reach is far and its impact is deep.
pray over your thoughts before they come out of your mouth, ask the Spirit to temper your words, and be mindful of the penetrable power of the spoken word.
and be careful little mouth what you say.
Related
Calendar
July 2021
M
T
W
T
F
S
S
1
2
3
4
5
6
7
8
9
10
11
12
13
14
15
16
17
18
19
20
21
22
23
24
25
26
27
28
29
30
31
Categories